I can still remember seeing Ruby Jean for the first time.
She was dressed in Louis Vuitton's yellow and white squares, her white bouffant hair carefully sculpted around the most interesting arrangement of facial features – dark, feline eyes and strong arched eyebrows, a pixie nose above a pillowy cupid's bow and a jawline to die for hunny. She is remarkably beautiful and fun to look at, gracing pages from Vogue to I-D.
Just under six foot tall, I was amazed at how she could be both a powerful, androgynous mod goddess and a delicate wraith at the same time.
I've been simultaneously proud and ashamed of being a tall girl for my whole life. Ballet dancing when I was younger felt like Bambi on ice and I wasn't sure how to move like the small, cute girls. I'd be envious of them, slouching to fit in so I could feel cute and tiny too. One of the things I found so magical about Ruby Jean was the way she naturally exudes both those qualities at once – tall and cute, strong and tender.
She's also funny, witty and caring. She pushes for animal rights – getting involved with cruelty free brands and vegan organisations, and she wears outfits that floor me constantly (whilst winning extra points for braving ultra mini skirts in the formidable Scottish winter).
Recently I finally managed to ask Ruby Jean some questions about working in the fashion industry, her love of vintage clothing and what it's like to live between Edinburgh and Sydney.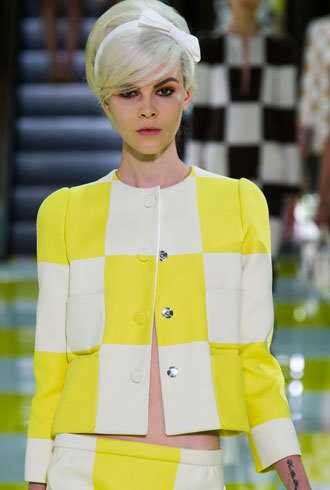 As a Scottish born/Australian bred woman, what do you love about Edinburgh?
The city is unlike any other I've been to. I love the old town and how the city is green and clean. The architecture is beautiful and the people are amazing. I always felt at home coming back here. Everyone should visit!
Is there anything you miss about Sydney, and what would you recommend to fellow Scots travelling there?
There is so much I miss about Sydney, most of all my friends. Australians are so open minded and I think Sydney is full of so many different types of people living in harmony. The long days most of the year and warm weather contribute to everyone's positive attitude. I have so many good friends there and I recommend visiting (despite the long flight!) to everyone who asks.
You often talk about the pursuit of vintage clothing on your Instagram. Where are your favourite spots to find hidden vintage treasure?
Less so recently but I love to source and collect vintage and unique designer clothing. Lately I prefer the latter, I have a real love for owning a piece of design history. 90's Dior and JPG .. Gucci and Hermes. The best things I've found in markets in Paris (Marches aux Puces is a great one) and also got some great pieces in Japan a while ago. In the UK, I tend to scour charity shops in more affluent areas as I think the good quality vintage tends to be less concentrated and more overpriced here from my experience.
What is one thing the fashion industry can't exist without?
MODELS. I feel like since Instagram has become such a huge factor in fashion and advertising, the art of modelling is becoming less focused on. It's becoming more of a numbers game. I would stress that brands and stylists learn and understand the value of a model who knows how to move, how to sell clothes and how to BE the girl your customers want to buy from. I'm all for filters and I love Instagram as a platform but I think the fashion industry must keep a focus on modelling as an art to retain its integrity.
You've walked for some of the biggest names out there – Marc Jacobs, Burberry Prorsum, Louis Vuitton, Lacoste and Yves Saint Laurent. How did your fashion career begin?
When I was 16 I had left school as I didn't know what I wanted to pursue and felt like I wanted freedom. I had been told I could try modelling by a few friends and thought why not try my luck. I sent some photos to Priscilla's model management in Sydney and they signed me. Within a year I was doing shows in New York. I had always loved fashion and performing, and so modelling was straight away something I enjoyed. I think becoming a model has taught me more about life and given me more experience than I anticipated. It's really matured me as a person and I'm forever grateful for the experiences it's given and continues to give me.
What is the atmosphere like at shows with such a large scale production value, and how do you handle the nerves?
It's usually more exciting than nerve-wracking for me. Sometimes the designers and stylists are nervous. It's so amazing to be a part of those productions. I love working to help them go as planned and I love playing the part.
In November 2016 you were unknowingly booked for a fur look book. As an animal rights supporter, it wasn't something you wanted to be involved in, despite feeling pressured and anxious not to inconvenience anybody on set.
Is it common in the fashion industry to have moments which make you question your morals, and how would you advise people in a similar situation to bow out gracefully from a job they don't feel right doing?
I have to say despite the difficulties leaving this shoot, I've felt so much positivity and support since I made that decision. I don't regret it for a moment. If I hadn't broadcast it, just not being there would have been enough for me. But I'd hoped that by proclaiming my decision maybe I'd motivate others in the industry to say no too. I truly believe it's only a matter of time until the concept of wearing real fur is barbaric to consumers. It just feels great to be on the right side of history. I was happy and proud of myself.
If you had to work in a different industry, where could you see yourself being happiest?
I'd like to run my own business and integrate the vegan message into it. I have a few ideas and things I'm working on. I'm indecisive (I'm a Libra) but I know I'd like to spend some of my time talking about veganism and the environment. I'd also love to share my experiences in modelling and my life over the last 10 years. I love to write.
What's the best piece of advice anyone has ever given you, career or otherwise?
Not so much advice but a saying. 'What's for you won't go by you.' My Aunty says this a lot – it has given me a lot of comfort over the years. Sometimes what may seem like a failure is actually a blessing you just don't know about yet.
Also to be the person you want to be – as much as possible, do what you'd do if you already had the things you're aiming for. I'm a big believer in the law of attraction and I spend a lot of time visualising and keeping myself in a positive and ambitious mindset – manifestation is magic!
♥ Ruby Jean
Agencies
Milk Model Management – London
Colours Agency – Glasgow
D Management group – Milan
Priscilla's Model Management – Sydney